Hokus - kids- Echo pictures
:
The day he came on the lawn with Riley. Had barely started shedding. Scruffy and thin but a real good guy.
A couple of days ago. Dillen and her mom grazing Hokus. We've had him since the 21st.
Same day. And yup, I think we all have crocs on.
he has a white chin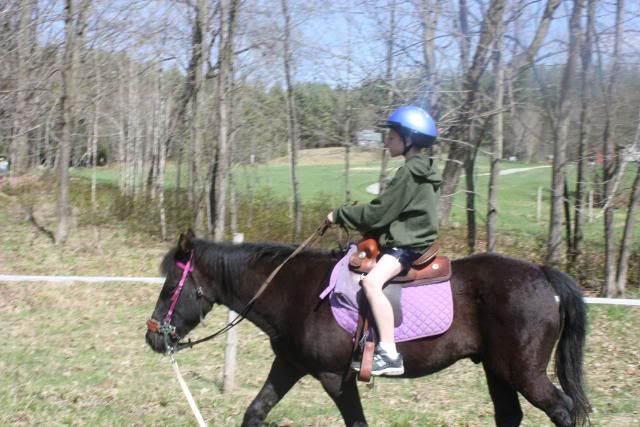 HIs head gear has already been replaced, it was what the owner brought me and supposedly he used. The brow band was much too short, the hackamore thingy is was too low. Just wanted to say that I do realize these things and they are not being ignored. And there is a towel folded under the front part of that saddle. Their rides only totalled 20 min and they weigh 60 and 65lbs. I don't want to spend $ on appropriate fitting tack until he gets back to where he needs to be weight wise. Dillen weighs 26 lbs and is the only one who would be in that saddle. The girl I am letting ride him twice a week rides him bareback and is in fact out with him at the moment.The saddle on him only has four rides total on it. It is an Abetta leather one which a lady bought, rode in twice and put away to get dry. The oil has darkened it a lot but the condition of it is now very nice. It was not too late to bring it back at all.From pics I've seen of him at his normal weight he is much heavier in teh shoulders and loins both. I am hoping that once his shoulders fill out it may fit him. If not than we have bargaining material towards the next one. Dillen very well may wish to ride English like her MeMaw but for now, I like the added security of the horn for her to hold. He will have his very own saddle pad come next week and will no longer have to borrow Echos. We bought him a headstall to attach to this hackamore he has for the most part always worn except for when he was showing English but apparantly he is a large pony size and it did not fit him. I put an old browband I had here on this one and have made more holes in it to bring the noseband up. He takes his work VERY seriously and would not fuss if his tack did not fit him so we will have to be very careful to make sure it always does. He has white hairs from an ill fitting harness at some point. The person I got him from said she only hooked him up twice in the ten yrs she has had him. He had the white hairs when she got him as well.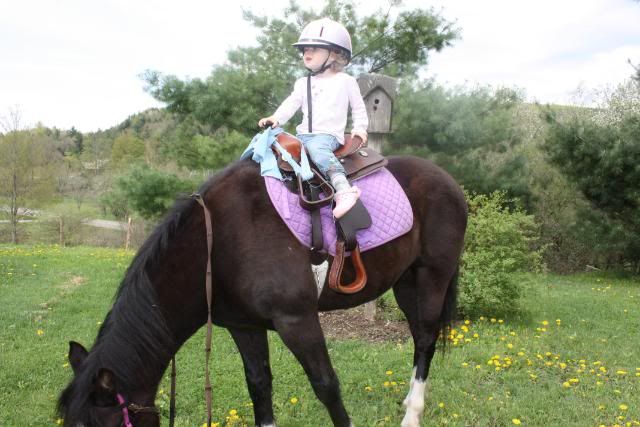 She is not alone, her mom was right there holding the rope. We tried tying some other stirrups to the horn but she didn't want them. I love her look here. She'd sit there all day.
I think he is a pretty pony for an older guy.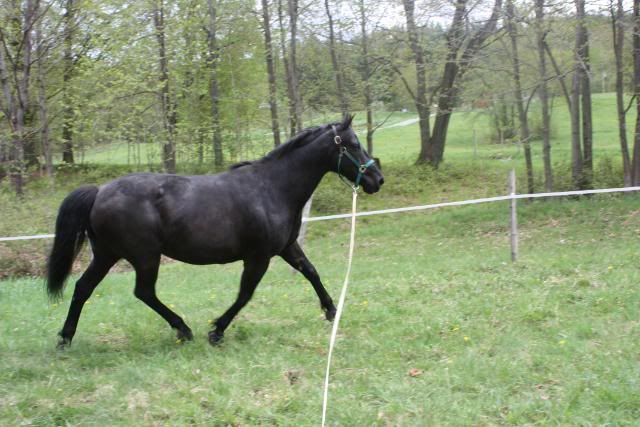 Doing what she does best. Got to remember that way up here we are still very much in shedding season and her fly spray is making her look weird too. Oh well.
These pics aren't too good but I couldn't be very still either. I find it hard to have Echo on the end of a longe and still take pics. I am going to try riding her here in the next couple days Im hoping. Been have too many sciatic issues to think about riding as of late. Hopefully soon.